Hydro Plast.pdf
Hydro Plast

Hydro Plast
Modified Cementitious Fibred Polymer Mortar and Waterproofer for concrete Repairs and Structural Renovations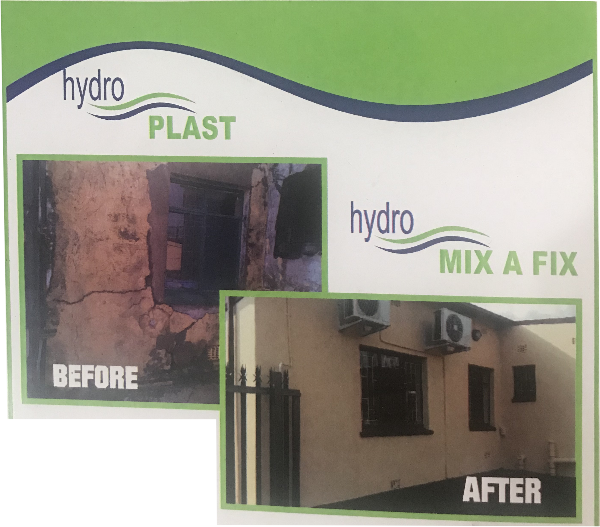 Description
HYDROPLAST a fibre and polymer modified cementitious mortar suitable for heavy duty plaster aerated concrete and cementitious structures repairs.
HYDROPLAST ensures that repairs to new and old structures are waterproof and further protects the concrete from deterioration by preventing penetration of chloride irons, sulphate, etc. Being cement based, the HYDROPLAST repair system protects embedded steel by creating a passive
(alkaline) environment as well as ensuring thermal compatibility with the base concrete
Typical Applications
Repair of concrete pipes / precast concrete
Repair of damaged structural concrete
Used as a water-tight plaster / caulking mortar
Beams / columns
Food processing and bottling plants
Offshore structures and sewage works
Marine environments exposed to constant contact with sea water
Repairs and renovations to squash court walls
Repairs to honeycombing
Repairs to aerated concretes and mortars
Wherever a Highly durable repair topping or render is required to ensure maximum resistance to salt penetrations, sulphate, etc.
Advantages
Factory controlled – no site blending required
Can be plastered to a feather edge or applied for mass mortar renovations
Thermal movement is similar to that of base concrete
Extremely versatile – can be used for repairs in both vertical and horizontal applications
Highly resistant to abrasion and mechanical impact
Initial surface absorption 90% less than that of normal concrete
Excellent bond to base concrete or asphalt
Vapour permeable